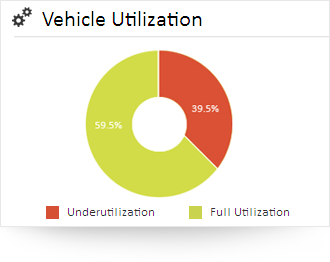 Vehicle Utilization
Utilization chart & report helps you to identify the usage of vehicles along with its utilization & underutilization metrics. You can properly allocate your vehicles; do more with fewer vehicles and drivers, thereby avoiding purchasing new vehicles and spending more on wages & maintenance. With sensible & real time information on your vehicles' performance, you could take smart decisions in no time.
Utilization & underutilization ratio
Actual & ideal usage count of Hours, Trips & Distance
Distance travelled, Hours piled & Trips made charts
Operational cost involved and resulting potential loss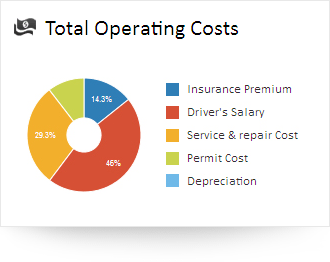 Financial Tracking
Your fleet costs have gone up, and you are wondering why? Review your vehicles' utilization ratio and break up the operational costs incurred to various aspects and find out the ways to control the unneeded expenses. Perform deep analysis with quick data over a period of time (say 6 months) to forecast and schedule optimized vehicle usage in future. Why buy a new vehicle & employ a new driver since what you have might already be enough to meet the purpose.
Break-up data on:
Running costs
Labor costs
Maintenance costs
Recurring financial charges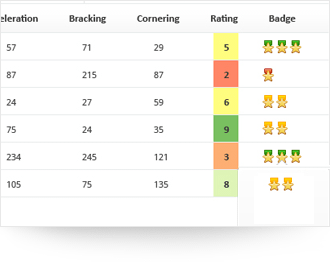 Driver Scorecard
Despite of what type your business is, your drivers need both monitoring and motivation. Get hold of the issues and solve them before it turn costly. With deep analysis of their driving behavior and techniques used, you can increase driver accountability by keeping track of:
Designated hours & Actually driven
Harsh Driving techniques
Excessive breaks & vehicle idling times
Actual values on distance covered & time taken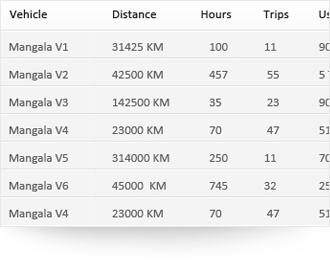 Asset-wise & Consolidated data
Fleet Analytics charts & reports are available for individual vehicles as well as in a consolidated form (all the vehicles together). What all are available?
Utilization Chart
Utilization & performance report
Operating costs chart
Break up charts on:
Distance Covered
No: of Trips completed
Financial Losses Incurred
Hours Piled